Are you interested by biobased plastics? Do you want to discover more on the potential of biobased plastics made from microalgae and meet the professionals of the field? Then register to NENU2PHAR's second event on the challenges of bioplastics.
Led by the coordinator CEA, the NENU2PHAR project organises its second onsite event to exchange about the challenges of PHA value chain. It will take place on November 14 from 9AM to 5PM in Aix en Provence (France) in the Technopole de l'Arbois.
In the morning session, our coordinator CEA will animate a tech time on "Microalgae, bioplastics and recycling", a crucial point in the framework of the Nenu2PHAr project. Erranova, a French company specializing in microalgae-based plastics, will provide a testimony on the current landscape and trends in the field.
The afternoon session will be dedicated to the Nenu2PHAr project value chain for the production of PHA bioplastics, with a focus on the end of life of PHA bioplastics, the recyclability and the biodegradation; and a focus on the ecodesign, the life cycle, the cost assessments and the social acceptance of PHA bioplastics.
Between sessions, engage in B2B meetings and explore a showroom exhibiting products developed within the nenu2PHAr project.
Don't miss this chance to learn from leading academic and industrial actors and gain insights into what's next for bioplastics.
Check out the full program now and register to secure your spot!
AGENDA OF THE EVENT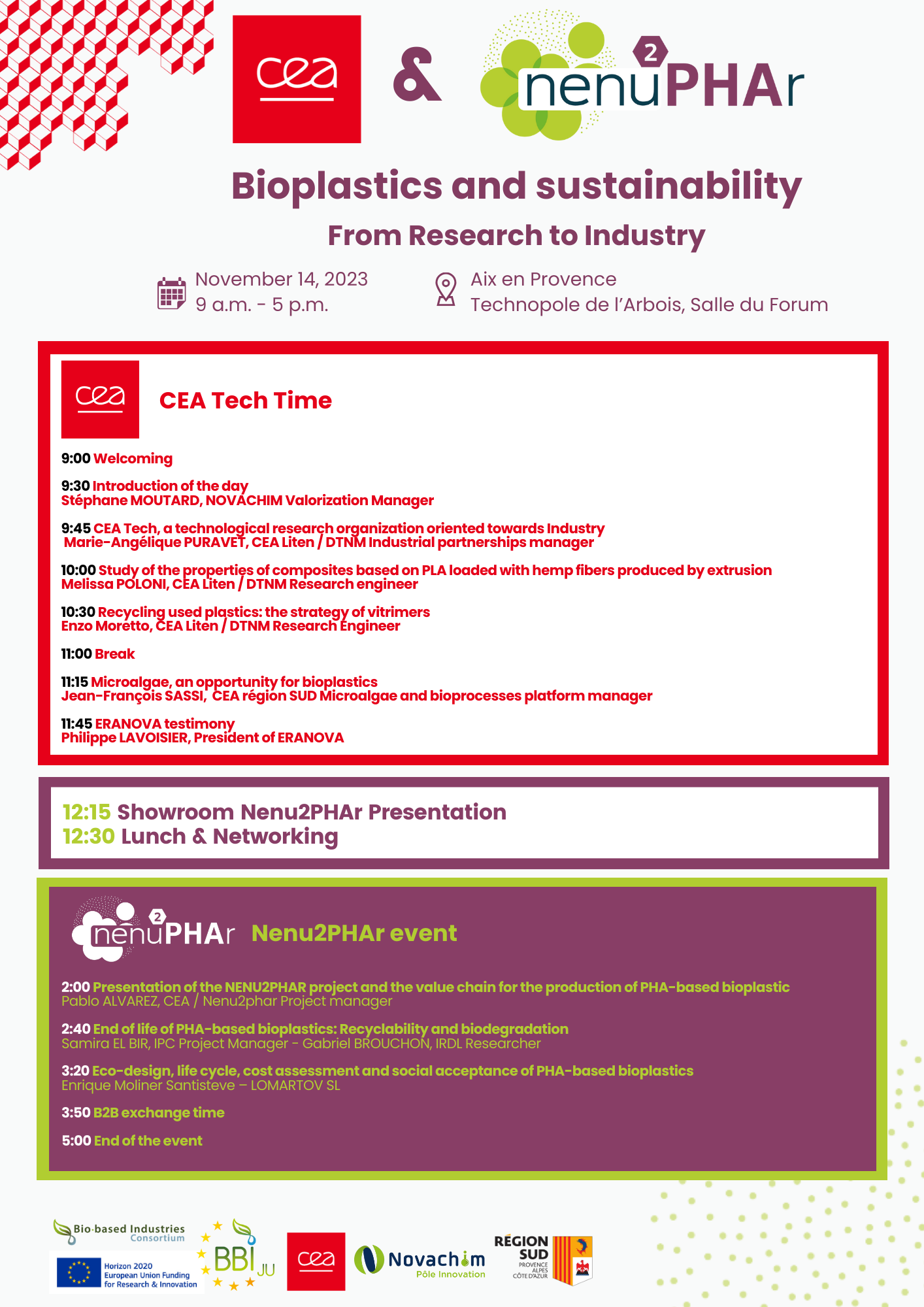 Read the programme
REGISTRATION
Register to the event
CONTACT
For any further information: contact@nenu2phar.eu