Discover the collaboration between two partners of the NENU2PHAR project: ELIXANCE, a company specialized in the coloring of plastics and UBS-IRDL, a research institute with a focus on materials engineering. These two partners, both located in the French region of Brittany, have formed a strong partnership for their work on bioplastics. In this article, you will discover their specialization, their role in the NENU2PHAR project and their complementarity.
Who are they:
Elixance is a company specialized in the coloration and functionalization of plastics. The company started in 2004 under the name Cap Ouest with 4 employees in Brittany (France), to meet the increasing demands of the alimentary sector.  In 2014, it reached 3M€ of benefice and reorganized itself into two branches: Elixance masterbatches for the coloration and additives for plastics, and Elixance Polymers for the development of biomaterials and functional materials. Today, their site in Elven has a workforce of 40 employees and produces more than 1000 tons of materials each year. Their goal is to create and formulate custom, innovative, and sustainable solutions that make sense to their clients and the planet.
The Dupuy de Lôme Research Institute (IRDL) is attached to 5 supervising institutions: University of South Brittany (UBS), ENSTA Bretagne, UBO, ENIB and CNRS. IRDL brings together 300 members. It is the largest research structure in Brittany within the field of materials engineering and its main objective is to federate skills and add equipment in the field of materials engineering in Brittany. Their ambition is to think about the resolution of current questions linked to material engineering and systems used in the industrial sectors related to packaging, motor industry, aeronautic, health and transport.
What does innovation represent in the company/laboratory?
At Elixance, we like to say that innovation is in our D.N.A: it represents 25% of our workforce. The ambition of the R&D department is to master the use of additives for the functionalization of materials and to develop biomaterials for our brand ELIXBIO. Those biomaterials are based on biosourced and/or biodegradable polymers and can also allow the valorisation of by-products and natural fibers.
Innovation is part of the IRDL laboratory approach by trying to develop materials with low environmental impact, through academic research but also in direct collaboration with industrial partners. RDL's ambition is to play, in the short term, an even more important role at regional, national and international levels in the resolution of current issues related to the engineering of materials and systems used in industrial sectors related to automotive, energy, aeronautics, health, transport and more particularly all areas in dynamic interaction with the marine environment, such as shipbuilding and offshore, marine energies.
How does the collaboration between IRDL and ELIXANCE works?
The collaboration between IRDL and ELIXANCE started in 2010 with the idea of valorising residues and by-products from the agri-food industries of Brittany to locally produce bio-based biocompostable and biodegradable plastics. This first project (BIOCOMBA) which were followed by 2 others (PHAPACK and BLUECOPHA) allowed to prove the industrial feasibility of manufacturing sustainable packaging thanks to these bioplastics. By associating academic and industrial skills and by combining knowledge in fermentation and materials from IRDL and knowledge of formulation and plastics processing by Elixance, the two facilities can easily develop and adapt PHA-based formulation for a specific application. Thanks to the success of this partnership, IRDL and ELIXANCE collaboration is continuing in the context of the European NENU2PHAR project. The proximity of IRDL's labs in Lorient and ELIXANCE R&D center in ELVEN separated by only 60 km allow regular technical discussions and convenient exchanges. IRDL can perform industrial scale extrusion tests on ELIXANCE's pilot lines and in return, share analysis on their expensive lab equipments.
Why participate in the NENU2PHAR project?
ELIXANCE: "Elixance was working on the development of compound that required a biodegradable and/or compostable end-of-life, and already started to focus on PHA before the Nenu2PHAr project. So, this project was an opportunity to increase its knowledge on the PHA compounding process and to share formulation and characterization results (PHA and blend of PHA with other polymers, additives, fillers, …) with the other partners. It also allows Elixance to learn about the technical constraints of different industrial processes (injection, thermoforming…) that are usually used by our clients. Finally, this project is also a good opportunity to collaborate with international partners and create economic and technical links with them. "
IRDL: "The team of Stéphane BRUZAUD has been working on PHA for more than 10 years. We are also actively involved in understanding microplastics impact on our environment and how PHA can help in specific application. For this reason, it was obvious that IRDL wanted to be part of the project. We can share our knowledge and at the same time learn from the other partners. It also helps us to better understand production process and properties expected by final customers. European projects such as NENU2PHAR are a unique opportunity to gain visibility at an international level and allow the community to know what our relatively small lab in the west of France is capable of. NENU2PHAR is our first European project on this topic and we hope it will not be the last one. "
What is your role in the project?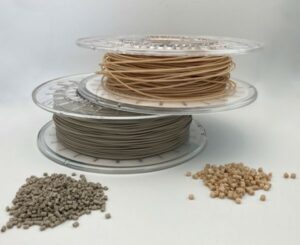 ELIXANCE: "In the N2P project, Elixance has three key roles. Firstly, the company is the compounder of the consortium. Elixance extrudes in granules the native PHB produced within the project, and based on the work done with the consortium, formulates the PHA compound for each final product. Secondly, Elixance is also working on the formulation of PHA, for a specific application: the 3D printing filament. This product is one of the 9 high-volume consumer products targeted by the project, and Elixance is its industrial representative. Last but not least, Elixance is the leader of the work package WP6, dedicated to the prototype development of the 9 high-volume consumer products. Its role is to coordinate the technical centers and industrial partners involved in this WP in order to produce the compound that will be used to make prototypes of each product."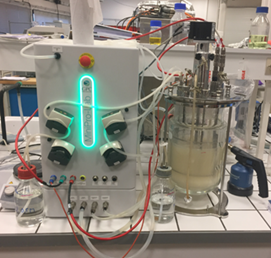 IRDL : "IRDL is active in numerous work-packages. The first one is WP3: Biomass development to PHA and starch biopolymer. The main task of IRDL is to optimize fermentation of bacteria to generate PHA at lab scale in a 5 liters bioreactor. Then, IRDL collaborates with Elixance in WP4 Biopolymer formulation, compounding and characterisation.  As an academic partner, our role is to screen at lab scale different potential formulations with different bipolymers and additives. Finally, IRDL is involved in the WP7 End of life of products and circular economy assesment. Our task is to evaluate the biodegradation of the produced plastics in marine water."