CEA, the French Alternative Energies and Atomic Energy Commission, is a public research organization founded in 1945, right after the end of World War II. Since these early times devoted to studying nuclear power, it has evolved into a multisectorial research and transfer organization (RTO).
CEA operates as a key player in research, development and innovation in six main areas: defense and national security, low-carbon energies (nuclear and renewables), biotechnological and medical research, technological research for industry, fundamental research (materials and life sciences) and remediation and dismantling of nuclear installations.
Drawing on its widely acknowledged expertise, CEA actively participates in collaborative projects with a large number of academic and industrial partners. Its involvement in the European Research Area and its international presence are constantly growing. In 2020, CEA participated in more than 440 European projects.
Since 75 years, thanks to the excellence of its research and its partnerships, CEA has been at the origin of several applications that influence our daily lives.
CEA operates the Microalgae Process Platform (MAPP) housed by CEA-Cadarache research center. MAPP is a modular open platform devoted to designing, experimenting and validating advanced innovation technologies for cultivating and harvesting microalgae. It incorporates an analytical laboratory, a biology laboratory, pilot-plant facilities and demo-scale industrial systems.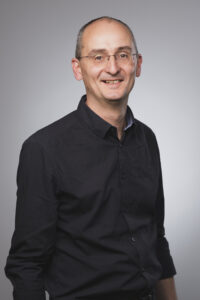 "The natural photosynthesis carried out by algae and cyanobacteria through the use of light and CO2 is a global subject of the circular carbon economy. This is a hot topic of interest and a question mark for the decarbonation of industries, including the heaviest ones. The research carried out by CEA on algae as alternative resources for biobased materials offers new levers to potentially level up to larger scale processes and applications", explains Jean-François Sassi, R&D Manager & International Expert – Algae Processes & Technologies at CEA, coordinator of Nenu2PHAr.
Why does CEA participate in the project NENU2PHAR?
With the ambition of studying alternative feedstock for producing different types of bioplastics, CEA first involved in several collaborative projects – Process'alg, ALGUEX, SEALIVE…  – where algal starch was a formulation ingredient to substitute starch obtained from traditional crops. However, although plasticized starch blended with other polymers may satisfy some needs for manufacturing sustainable plastic objects, it is not a universal solution. By initiating and coordinating the Nenu2PHAr project, thanks to CBE-JU support, CEA grabbed an excellent opportunity to extend the field of its bioplastic research to aliphatic biopolyesters whose technical and environmental properties appear somehow superior to TPS. Nenu2PHAr allows to investigate a new value chain where hydrolysed starch-rich photosynthetic microalgae are fed to bacteria that produce and accumulate PHAs (Polyhydroxyalkanoates), a family of polyesters that are used to develop high-performance bioplastic products with good environmental profile. This is key to the sustainable growth of the European plastic industry. Ultimately, such development is expected to proceed from Nenu2PHAr's establishment of innovative and affordable value chains of bioplastics at a European level.
"The microalgae sector is not fully mature yet to supply large-scale commodities. Through the Nenu2PHAr project, our strategy is to advance research and target intermediate developments in currently well-valued specialties. Given the lack of sustainable European value chains in the market of PHAs, whose supply is scarce and prices high, there is great potential for algae-based innovations. We are thrilled to lead a consortium of such highly skilled partners around this issue", concludes Jean-François Sassi.
CEA KEY FIGURES (in 2020)
> 20 000 employees
10 research centers + 7 regional platforms for tech transfer
5 billions € budget
> 5 000 publications
> 440 European projects
One of the leading patent applicants in France and Europe:
1st research organization in France for granted patents
1st French applicant for European patents
6,980 active patent families
216 spinoff companies created (89 over the last 10 years)
700 industrial partners