NENU2PHAR's partner Centexbel is responsible for PHA filament development and characterisation of PHA materials for formulations as textile intermediates among other fields of application.
The 2nd PHA platform World Congress, organised by Polymedia Publisher GmbH and co-organised by GO!PHA, will be held as a hybrid event in Cologne, Germany, on 22-23 September. The conference will address the evolution, challenges, and market opportunities for the formation of this new polymer platform in the world, addressing all stages of the value chain.
Centexbel will present a paper entitled  "the use of PHA materials in the textile industry", authored by Ruben Geerinck and Lien Van der Schueren, on September 23, as we can see in the following image captured from the congress program.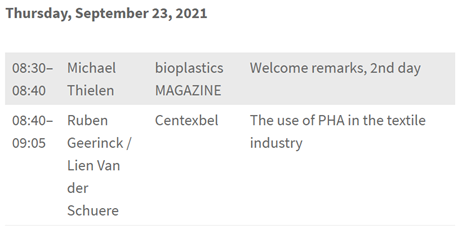 The presentation will be based on the use of PHA as an additive material to improve the biodegradability and/or mechanical properties of other bio-based polymers such as PLA or PBS for use in the textile industry. Results on the processing of pure PHA, mainly as monofilaments, will also be shared.
Congress details
2nd PHA platform World Congress, 22-23 September 2021 | Cologne, Germany (hybrid)
Organized by Polymedia Publisher GmbH, and co-organized by GO!PHA
Registration is OPEN and includes access to both days and all sessions.
Full conference fee is 975€ and online fee is only 775€.
More information